CMS
Our CMS solutions is our best selling advantage. It's easy administration and outlook-like interface makes it very simple to work with it.

Customized programs
Custom solutions for each client which targets interoperability and communication through heterogeneous systems.

Sharepoint planning

We can provide you with advanced sharepoint planning and design.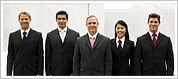 Services

Our services based on Windows platform offer excelent performance and maintanability.
Website Hosting

Sqlserver Hosting

Sharepoint Hosting

Exchange Hosting

Content Management Systems

Consulting




Support
We offer excellent support through our expert support staff.

On time
We deliver our projects on time so you don't have to worry about software delays.

Best technology
Our development team works with the best technology available in the market to provide you with leading results.

Customizability
You can customize our solutions to fit your needs. Our solutions is based on customizability.